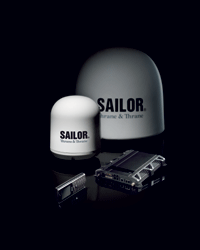 FREE SHIPPING available for this item when using UPS Ground.
# de Modelo: SAILOR-FBB-250
Descripcion:
SAILOR FleetBroadband 250 from Thrane & Thrane is ready to embark your ship. Choose the Sailor 250 FleetBroadband for reliable high-speed IP communication. The next generation of satellite communication with seamless coverage based on Inmarsat services. Basic system includes: 403050A SAILOR 250 Antenna unit;403738A . SAILOR FleetBroadband Below Deck Unit;403670A. SAILOR IP handset/Cradle (wired) opt. 945 25 meter antenna cable (RG-223). User installation manual.

Data speeds up to 284 kbps
Compact system ideal for smaller commercial vessels or private yachts
Send and receive e-mails and browse the web
Get access to remote networks securely
Send and receive large files
Access to voice and data simultaneously
Small size hardware
Streaming IP: 32, 64, 128 kpbs
Above Deck Unit: 12.94 x 10.75 in (329.2 x 275.6 mm)
Below Deck Unit: 1.67 x 10.31 x 10.67 in (42.5 x 264.5 x 273 mm)
Peso de Carga: 65 lbs.
Venta al por menor: $19000.00
Nuestro Precio: $8999.99

You Save 53%










Telefono: 305-444-3911
Fax: 305-444-3912
Email: info@marinewholesales.com