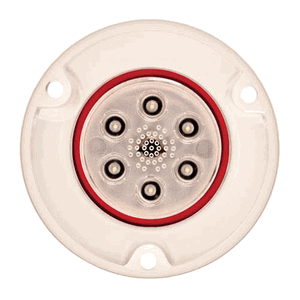 FREE SHIPPING available for this item when using UPS Ground.
# de Modelo: 60-0155
Descripcion:
Lumishore SMX11 Underwater Light(White) . Adding underwater lighting to your vessel has never been easier. One small cable hole and three mounting screws is all it takes. The ORA Series SMX11 Surface Mount underwater LED light competes with other LED models costing over twice as much. Thanks to 'Active Thermal Rollback', SMX11 can be used both above or below the waterline without worry of overheating. SMX11 is compact with a very slim profile, easily installed on any smaller-sized vessel. Specifically designed for smaller boats, ORA SMX11 offers unmatched light output and optics for a light of it's size. Featuring 1,100 fixture lumens and a focused 60° beam, SMX11 is suitable for transom and side hull mounting, as well as for use above water and for dock lighting. Easy installation.

Single-color: blue, white, or green
Brightness: (lumens/fixture lumens): 2,475/1,100
Beam Angle (degrees): Focused 60°
Max Current Draw (12V DC only): 1A
Boat Size (m/ft): Recommended for boats up to 7m/25'
Profile (mm/in): 10mm/0.39
Light Face Diameter (mm/in): 85mm/3.34
Lens: Toughened Integrated Polymer
Housing Type: Corrosion-proof, growth resistant marine grade polymer
Driver: Internal
Control Options: Wireless Keyfob Remote (RM-12), or standard On/Off switch
Protections: Over voltage/current, reverse polarity, and thermal rollback protection
Life expectancy: 50,000+ hours
Warranty: One-year SMX-11 Warranty
Peso de Carga: 5 lbs.
Venta al por menor: $229.00
MAP Precio: $199.00








Telefono: 305-444-3911
Fax: 305-444-3912
Email: info@marinewholesales.com