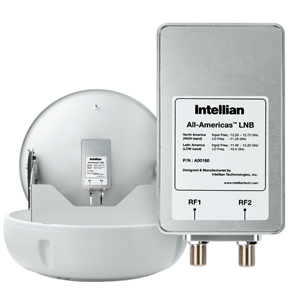 FREE SHIPPING available for this item when using UPS Ground.
# de Modelo: S2-D813
Descripcion:
Intellian All-Americas LNB.Intellian All-Americas LNB is a dual-band circular LNB (Low Noise Block) unit for continuous reception of satellite TV programming throughout the Americas. Designed and manufactured by Intellian's in-house engineering, the All-Americas LNB combines two circular polarized LNB receivers into one device to ensure seamless and uninterrupted satellite TV service across multiple satellite coverage areas. With the press of a remote control button on the Antenna Control Unit, boaters can switch between DIRECTV, DISH Network or ExpressVu in North America and DIRECTV Latin in Central and South America. Offering affordable and flawless access to the greatest number of channels at sea, Intellian's new All-Americas LNB presents commercial and recreational boaters with a convenient, continuous satellite TV solution for optimum entertainment throughout the Western Hemisphere.

Intellian All-Americas LNB, for use with the i series domes
Peso de Carga: 5 lbs.
Venta al por menor: $995.00
Nuestro Precio: $779.99

You Save 22%










Telefono: 305-444-3911
Fax: 305-444-3912
Email: info@marinewholesales.com