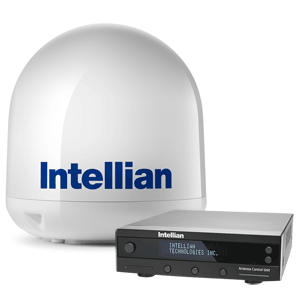 FREE SHIPPING available for this item when using UPS Ground.
# de Modelo: B4-609AA
Descripcion:
Intellian i6 System with 60cm (23.6 inch) Reflector & All-Americas LNB.(North & South Americas) Systems.The Intellian i6 provides excellent commercial-grade performance and efficiency compared to antenna systems in similar size. The i6 is ideally designed for boats over 70 feet. Traditionally, bigger marine satellite antennas had cumbrous weight and complicated cable installation problems. Thanks to the i6's single cable design and the vacuum-forming technology, the i6 has once again proved bigger can be lighter and simpler. With Intellian MIM, boaters can enjoy flipping channels through automatic satellite switching just like a home system. See the installation guide of DISH Network MIM for further details. With its patent-pending innovations in Wide Range Search (WRS) and Dynamic Beam Tilting (DBT) technologies, the i6 can always offer the most precision tracking capabilities and superior quality of satellite signal receptions in the extremely rough sea conditions. The most innovative design of the i6 is the integrated HD and TriSat modules in its control unit. This allows boaters the ability to access their favorite HDTV channels from leading satellite TV service providers easy just like they are used to do at home. All-Americas™ LNB Overview Intellian All-Americas™ LNB is a dual-band circular LNB (Low Noise Block) unit for continuous reception of satellite TV programming throughout the Americas. Designed and manufactured by Intellian's in-house engineering, the All-Americas LNB combines two circular polarized LNB receivers into one device to ensure seamless and uninterrupted satellite TV service across multiple satellite coverage areas. With the press of a remote control button on the Antenna Control Unit, boaters can switch between DIRECTV, DISH Network or ExpressVu in North America and DIRECTV Latin in Central and South America. Offering affordable and flawless access to the greatest number of channels at sea, Intellian's new All-Americas LNB presents commercial and recreational boaters with a convenient, continuous satellite TV solution for optimum entertainment throughout the Western Hemisphere. i6 HD System w/23.6" Dish & All-Americas LNB Features Extended Elevation Angle Range Extended Elevation Range (-15x~ 90x) and special pedestal design for the extremely low or high latitude regions such as the Scandinavian peninsula and equatorial regions. Automatic Polarization (Skew Angle) Control Automatic Skew-angle Control System (-90x~ +90x) for Linear Horizontal/Vertical Polarization. When target satellites are changed, manual adjustments to the antenna are not necessary. Dynamic Beam Tilting (DBT) algorithm Rotating, high-speed tilted disk in the sub-reflector eliminates the constant noisy scanning of themain-reflector which is necessary for competitive manufacturers, thus extending the life of stepper motors. Signal strength variation is checked 50 times per second allowing corresponding compensation oftracking direction for peak performance. Wide Range Search (WRS) technology When the system is searching for the target satellite, traditional methods looked forthe narrow band-width of the main lobe. Intellian's exclusive WRS method finds the wider range of side lobes of the satellite signals, and immediately progresses to the proper main lobe, thus reducing satellite acquisition time typically to less than 60 seconds. Fully automated Digital Video Broadcasting (DVB) identification High Speed Identification employing DVB Decoder with CPLD. QPSK Demodulator Locks for DSS Signal. 2-axis Stabilization System 2-axis Step Motor for manipulating the pedestal. Enhanced Reflector High efficiency 60cm parabolic antenna enabled power gain up to 36 dBi @ 12.2GHz. Built-in GPS and NMEA 0183 Interface Port I6PE includes built-in GPS for faster signal acquisition. Ship's gyro can also be connected through the NMEA 0183 connector in rear panel of ACU. HDTV-ready Antenna Control Unit (US use Only) I6PE's ACU includes a Ku-band High Definition decoding module. The user can enjoy whatever High Definition TV programming is available from the Ku-band satellite signal. Single cabling from antenna to ACU One RG6 coaxial cable connection from Antenna to ACU provides power, communication, and satellite signal delivery. Single Cable configuration enables simple installation and easy maintenance. Crystal polished all-white radome Polished-white upper and lower radome gives stylish appearance and improves rain fade effects. User friendly ACU Operation and PC Control Program Antenna monitoring and control functions are performed via the Antenna Control Unit (ACU) with its 5-button and 2-line VFD (Vacuum fluorescent Display). PC Control Software also allows system diagnostics.

3 Year Warranty
B4-609AA Intellian i6 System with 60cm (23.6 inch) Reflector & All-Americas LNB
Peso de Carga: 160 lbs.
Venta al por menor: $7990.00
Nuestro Precio: $5899.99

You Save 27%










Telefono: 305-444-3911
Fax: 305-444-3912
Email: info@marinewholesales.com