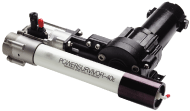 FREE SHIPPING available for this item when using UPS Ground.
# de Modelo: 8013438
Descripcion:
Katadyn 40E This compact, highly durable 12-volt watermaker is our contribution to improving life on board. It is the smallest and least expensive power watermaker available. Simplicity - The 40E contains 40% fewer parts than its popular predecessor, the PowerSurvivor-35. Simplified construction and rugged design make the 40E remarkably easy to install, operate and maintain. Compactness - Extraordinarily compact, the 40E can be installed in the nooks and crannies otherwise unusable in many yachts. Efficiency - No watermaker draws so few amps. Using only 4 amps, the 40E can run for extended periods on alternative power alone. Durability - The heart of the 40E is the rugged stainless high-pressure pump. Armed for the rigors of the marine environment, this watermaker is built to last. Were so certain, weve covered it with a superior warranty: 3 years on most components.

Salt Rejection: 98.4% average (96% minimum)
Feedwater Flow Rate: 20 gallons/hour (75.7 liters/hour)
Power Requirements: 12 volts DC (draws 4 amps)/24 volts DC (draws 3 amps)
Dimension - Prefilter Module: Length: 12
Dimensions - Pump: Height: 6.75
Weight: 25 lbs (11.33 kg)
Water Production (+/- 15%): 1.5 gallons/hour (5.7 liters/hr)
Peso de Carga: 45 lbs.
Venta al por menor: $3995.00
MAP Precio: $3645.00








Telefono: 305-444-3911
Fax: 305-444-3912
Email: info@marinewholesales.com